We recognize that during the holidays, it's extra important to make sure your body is getting the support it needs to function at its best. Maintaining good gut health is an ongoing process, after all.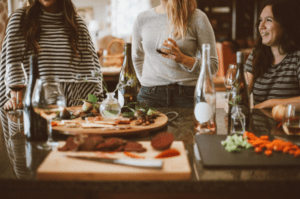 That's why for the month of December, we're providing customers with our best digestive deal yet: Buy three of the same item and get the fourth free. (*Sale valid from Dec 1-31, 2021).
And if you're new to Global Health Trax, we've provided a breakdown of each product included in our "Buy 3 Get 1 Free" deal for your convenience below: 
Active Digestive Enzymes
Whether you're lactose intolerant or just need a little extra support digesting all of the meat, carbs, and dairy you've been eating over the holidays, our active digestive enzymes are there to help. With 17 proven ingredients all designed to break down your food as you consume it, we're not messing around when it comes to digestive health. 
Our digestive enzymes may help you enjoy more foods with fewer unpleasant consequences. There's no reason why you should have to avoid enjoying your favorite meals, after all! From an occasional upset stomach to acid indigestion, heartburn, diarrhea and more, this is one daily supplement you won't want to go without.
Oxygen Elements® Max
While eating, drinking, and merely living our normal daily lives, we are constantly taking unnatural synthetic non-food substances into our bodies. Preservatives, artificial colorings, flavorings, smog, fungi, artificial chemicals, hydrogenated oil, and fumes all contribute to the oxygen depletion in our bodies. This gets compounded by all of the food we consume over the holidays! Oxygen Elements® Max is built to combat this very issue. 
Our product works by distributing oxygen to your cells, thereby increasing blood flow and neutralizing free radicals. This allows the body to flush lactic acid and more efficiently enhance physical performance as a direct result of sufficient blood and oxygen circulation. That process reduces that lethargic feeling after a big meal and helps with a faster recovery if your family dinner wasn't as healthy as you would have hoped. 
SevenLac Probiotic
Feeling like your gut health has taken a major hit lately? There's nothing that'll get it back to peak efficiency quite like our SevenLac probiotics. Seriously – with proprietary strains of good bacteria, SevenLac from Global Health Trax is a one-of-a-kind formulation that you'll only find by shopping on our site. 
Recently developed by our Founding Scientists team, the new probiotic strain of Lactobacillus johnsonii is showing provocative possibilities, among which are positive effects on the immune system. Pair that with six other fantastic active ingredients, and you get a probiotic that'll give your gut's microflora the reinforcements they need to get you feeling great again.
FiveLac Probiotic
Looking for a little extra support but don't necessarily need the full power of SevenLac? That's where FiveLac comes in. With five powerful strains of bacteria in every serving, this product was specially formulated to provide customers with exactly what they need to replenish their beneficial microflora. 
Friendly flora perform a number of constructive functions in the intestinal tract. One main function is to help prevent occasional good/bad flora imbalance. The "good" flora do this by crowding out the "bad" in the intestinal tract. FiveLac tips the scales in favor of the good so that you're left feeling healthy, energized, and in control. 
ThreeLac Probiotic
And finally, we've got ThreeLac – our perfectly balanced maintenance probiotic. This one is for customers who have their gut health where they want it to be and want to maintain their current levels of good bacteria. Think of it as providing regular increments of "reinforcements" for your gut's good bacteria. 
On a regular basis, our bodies are fighting this battle between good and bad bacteria. In a healthy gut, the good are in control. ThreeLac helps make sure it stays that way – giving your digestive system a reliable source of support each and every day. After all, you don't go a day without eating – so why go a day without taking your probiotic supplements? 
For a Limited Time: Buy 3, Get 1 Free!
Our revolutionary supplements have made a significant difference in the lives of our customers. For all of December, we're offering a special promotion on all of the products we listed above! Just buy three of a specific item, and get the fourth one on us!
Take Back Your Digestive Health
At Global Health Trax, we take pride in creating dependable, natural supplements that help our customers improve the way they approach their personal wellbeing. Our mission is to deliver the best digestive nutritional products, with progressive formulations, for optimal wellness, longevity, and improved quality of life for people throughout the world. Start your GHT journey today.