Marine Phytoplankton Liquid
Because not all phytoplankton is created equal
Harvested from the bountiful Strait of Georgia just off the coast of Vancouver, Canada, the marine phytoplankton in this product is a truly remarkable ingredient.
The GHT Companies are proud to be the exclusive source for over 100 countries of this unique and proven Marine Phytoplankton line of products.

Alpha 3 CMP™ is a unique nutrient-rich blend of several species of marine phytoplankton.
Born of years of research, Marine Phytoplankton provides a blend of ocean derived amino acids and minerals. This natural product offers an excellent source of micronutrients.
Supports cellular health
Promotes energy and vitality
Available in three different formats — liquid drops, capsules, or gummies — to help make each day your best one yet
Proprietary Blend
What makes this Marine Phytoplankton different from chlorella, spirulina, blue-green or any other algae is that it is wild-harvested, contains multiple species and the patented process ruptures the cell wall, so the nutrients can be accessed and utilized. Marine phytoplankton have a hard plant cell wall our bodies cannot digest. This Marine Phytoplankton contains extracted microscopic nutrients for best absorption.
Additional information
As part of our Health 101 series, we've written a number of articles relating to these vitamins and supplements that we hope you find interesting and useful: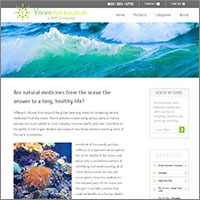 Are natural medicines from the ocean the answer to a long, healthy life?: Different cultures from around the globe have long relied on harvesting natural medicines from the ocean. Their traditions include using various parts of marine animals and ocean plants to treat maladies, improve health, and even contribute to the ability to live longer. Modern-day research into these claims is reaching some of the same conclusions.