Flex Fit Pro – Angel Food Cake
Designed for all types of athletes as well as anyone who wants to maintain a high level of activity. Flex Fit Pro provides high-quality whey protein isolate in a convenient powder that's deliciously flavored to taste like angel food cake. Satisfy your dessert cravings while promoting muscle growth, fat burning, and increased energy.
Energize and Restore
Flex Fit Pro Whey Protein Isolate is a low-fat, low-carb, fast-acting high protein source that's great for supporting and maintaining lean muscle growth. Provides long-lasting, post-workout energy throughout the day by replenishing much-needed nutrients. Flex Fit Pro provides lean proteins without the additional carbs and fats and is low in calories.
Features
Stimulates the production of lean muscle
Provides long-lasting energy throughout the day
Helps to reduce body fat for a more defined, toned look
Mixes easily in water, milk, or other liquids
Lactose friendly, gluten-free, non-GMO
Additional information
As part of our effort to increase education about health and nutrition, we've written a number of articles relating to these vitamins and supplements that we hope you find interesting and useful: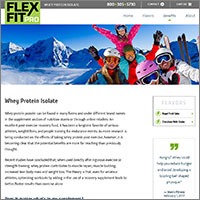 Whey Protein Isolate: There are numerous whey protein supplements and nutritional shakes on the market, but are they all the same? The simple answer is no. Most if not all supplements and shakes are made up of different ingredients, and therefore, the potential advantages can vary widely. To get the best benefits, look for a supplement that is made of whey protein isolate and is rich in essential amino acids which are vital for the repair and building of muscle tissue.